They will fly across the world to try a new restaurant – near the Arctic Circle. They eat 13-course lunches – and still go out for supper. They consume 5,000 calories every day – and instagram every meal. Hugo Rifkind joins them for dinner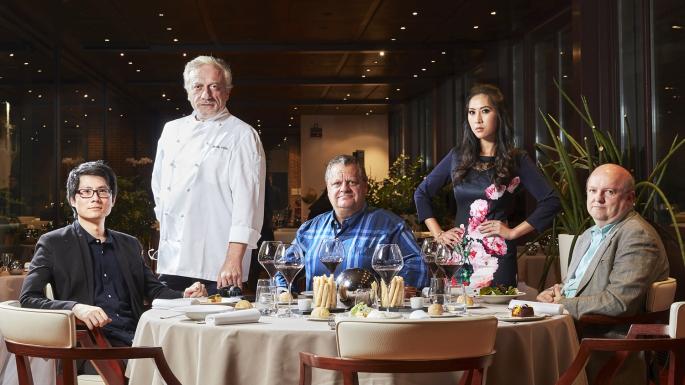 I am not a foodie. Let's get that out of the way. Yes, I like eating. I also like breathing, and while I find a good meal more fun than even a really high-quality bit of oxygen, I'd still rank it below a chat, or a walk, or a film. Moreover, when I have just eaten a vast and fantastic meal, and am lolling there, exhausted, perhaps packed with meat right up to my sinuses, then the last thing in the world I want to do is eat another one. Which means, for this weekend, I am in entirely the wrong company.
With me in Combal.Zero, a glorious modern restaurant tacked onto a castle in the Italian countryside an hour outside Turin, are four people who probably know more about restaurants than almost anybody else in the world. Sometimes they call themselves the Fantastic Four, although they'll invariably giggle afterwards. They have eaten everywhere. Like, everywhere. And should you inadvertently mention somewhere they have not eaten, then they will quiz you, in detail, about precisely where it is, and most likely go there, too. Like the Terminator, they cannot be stopped. Forget your dilettante reviewers, these people are the real deal. For they are bloggers.
Jeffrey Merrihue is 56 and the founder of a firm that makes videos for brands. Merrihue is also the second person alive to have eaten in all 50 of the restaurants on the World's 50 Best Restaurants list, as compiled each year by a poll since 2002. He did it first in 2015, but he also just ate an amuse-bouche – a sort of pizza zuppe – which means, as of a few seconds ago, he's done it in 2016, too.
Chan, an actuary from Hong Kong, was the first person to eat in all 50 of the restaurants on the World's 50 Best Restaurants list
At this precise moment, he is also on hands-free on his iPhone, taking part in a parent-teacher conference for his seven-year-old back home in Los Angeles. "My wife said she'd divorce me if I missed this call," he says, out of the corner of his mouth, which for now, briefly, has nothing else in it. He liked the soup a lot.
The first person alive to have eaten in all 50 of the restaurants on the World's 50 Best Restaurants was Kevin Chan, a thirtysomething actuary from Hong Kong. He's here, too, having stopped off last night in London.
"Where did you eat?" Merrihue asks him, the instant he mentions this.
"Eat," shrugs Chan, meaning the sandwich chain. Merrihue looks sad.
Mijune Pak, 30, is from Vancouver. She runs Follow Me Foodie, a food blog, and also works as a brand consultant.
"Are those worth it?" she demands, piercingly, as I crunch on a breadstick. I'm stuck. For me? Sure. But Pak has eaten in 574 restaurants this year (so far) and once wrote 20,000 words about a tasting menu she had at El Celler de Can Roca, a three-star restaurant in Girona. So I'm guessing her breadstick standards are high.
Andy Hayler, 54 and from Chiswick, is the last part of this quartet. A technology analyst by day, by evening and, I suppose, by lunchtime, he is also a semi-professional food writer. On his website (Andy Hayler's Restaurant Guide) he writes proudly of having been to every Michelin three-star restaurant in the world, which in 2014 meant 110 of them. Whereas now?
"Now the bastards have come up with a couple of new guides," says Hayler, bitterly. "And one of them is in Seoul, which will be interesting but bad. It is going to be bad."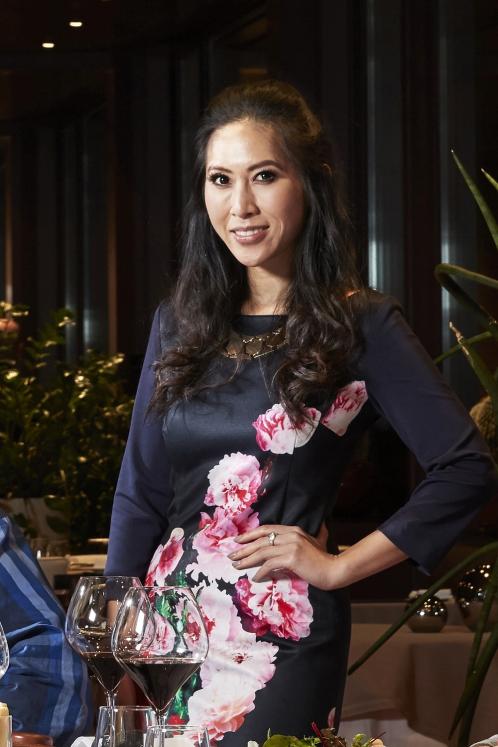 You know those people who instagram photos of their lunch? Who can't eat a cheese toastie without blogging about it? This is how it ends, once it blossoms into something fascinating. Or, depending on your perspective, spirals quite madly out of control. They first met, these four, in London, having come across each other online. Merrihue, alongside his main business, also set up Foodiehub.tv, a network of food experts worldwide. Concurrent with an awards ceremony, he set up a massive dinner, and these four gravitated together.
The last time they met was at Damon Baehrel, in New York State, for a meal that featured in an article in The New Yorker. Merrihue wants their next trip to be to Mexico, where Noma (Danish, two-star) is doing a pop-up for six weeks next year, and where he has also heard about a chef who wraps a dead goat in banana leaves and buries it underground, before digging it up and making the most tender tacos known to man.
There are certainly other people out there, Merrihue happily agrees, once he's eventually off the phone, who are probably as experienced in fine dining as they are. Although not very many. Worldwide, he reckons, maybe about ten.
"The hard part is," he says, "how many people have eaten around the world?"
"Not many people really travel," says Chan, "Like this."
"Even if they do," says Pak, "I don't know if they go to the depths we do. To take it this seriously?"
"It makes you think it's a little bit geeky, right?" says Chan.
I don't say anything.
"To email each other afterwards?" says Pak. "And talk about it? And write about it? It's obsessive."
"Maybe," says Chan, sounding worried, "it's crazy."
"It is not," agrees Pak, "just going out for dinner."
Combal.Zero is No 46 on the 50 Best. Our menu tonight is the Up & Down, whereby chef Davide Scabin inverts the normal pattern of dining, beginning with complicated meat dishes and ending with light ones. Which means after our pizza soup and a broth, we continue with pigeon, and it's good. I find everything good. But what the hell do I know?
Why aren't they more fat? 'Mijune never fills up. She's like a machine'
When it comes to judging food, Hayler has a theory. It's all about experience. People who know what they are talking about, he says, really ought to agree over how good a meal is. Taste doesn't come into it. He has some other friends he'll often eat with, one an ex-editor of The Good Food Guide and the other a former Egon Ronay guide inspector. They'll score courses out of ten on little cards, and not share them until the end. They'll almost always agree.
"Obviously not if you sat down with some random person in the street," he says. "But people who are trained? There should be a high degree of correlation. That's only not true when restaurants are not consistent."
"And there's a big difference when the chef isn't there," says Merrihue. "Remember Lebanon? Oh my God."
"It falls apart," says Pak.
"Although when Francisco was in …" breathes Merrihue.
At the time, I have no idea what any of them are talking about. Days later, going over my tape, I email Merrihue to find out. Lebanon? What? Actually, he says, he was talking about L'Anima in Shoreditch, which he says is always pretty good. "But when the head chef was there," he writes, "Francesco Mazzei, who has since gone to Sartoria, the meals were exceptional." Then he goes on to tell me why.
This is how the conversation works. Every anecdote gets interrupted by the question of who ate what, where, and what it was like, and other places a bit like that place but somewhere else. If one person mentions a chef, a dish, everybody else can identify it immediately. Unlike me. Which is, I suppose, the point.
Unless I specifically say otherwise, you should assume that everybody in this article is taking photographs of everything, all the time. Dishes, menus, waiters, plates, light fittings, the works. Phones only go away when actual cameras come out.
"Some people," says Pak, "will say, 'Oh, I'm a food enthusiast. Blah, blah.' Then they do it for, like, one day, two days, and they're tired and they need a break. This group? It's extreme. There is no break. You do one after the other. It's like, if we finished this dinner, and somebody said there was a 24-hour place that's known for the best paninis? We would go. We would 100,000 per cent go. Straightaway."
"We went to Salt Lake City together," says Merrihue. "For one day. We flew in and flew out. How many plates did we have?"
"We had 48 dishes in 10 hours," says Pak, who likes her numbers.
"We decided we wanted know everything about Salt Lake City," says Merrihue. "Which, by the way, is a mistake. There is only, like, one good thing in Salt Lake City."
"This is what we're doing every day," says Pak. "Like, 4,000 or 5,000 calories a day."
"Tonight we were looking for dinner," says Jeff, "before dinner. But everything was closed."
Later, Chan will tell me about a foodie trip he took years ago, with his friend Jose, in San Sebastián, Spain. It was a weekend. On Saturday, they went to Arzak, a Michelin three-star, for a ten-course tasting menu. Then, that night a bar crawl of pintxos, or Basque bar snacks, during which they ate 15 times from 12 different places. Then, after a night's sleep, they drove two hours to Azurmendi (also three-star) for another ten-course meal, during which Chan realised Jose had disappeared. Eventually he found him lolling in the lounge area. He'd been sick in the toilet, and refused to eat any more.
"This is an extreme sport," said Jose. "No more."
So Chan ate Jose's food himself. "Just two meals," he says, disbelievingly, "and he gave up."
Tonight, Hayler has requested a few dishes off-menu. One is a sort of bolognese with overcooked macaroni. Everybody approves. I do, too, but personally I'd add ketchup.
I don't know why these people aren't more fat. Merrihue and Hayler are a little on the large side, true, but hardly unusually so. Chan and Pak are tiny.
"She never fills up," says Merrihue, of Pak. "She's like a machine."
Pak says she reckons it's something to do with being ethnically Chinese.
"Asian men," she says, "get fat like snakes who have swallowed a basketball. That's it."
It would be a mistake, though, to confuse all this with gluttony. There is a compulsive edge here. Eating your way around the world is an expensive, time-consuming hobby. Does it ever get in the way?
"I miss my parent/teacher evaluation?" shouts Merrihue, incredulously. "My wife just shrieked at me and hung up the phone? Does it get in the way? Nooo! Of course it doesn't get in the way!"
Thanks to Hayler, I now know that one of the best Indian meals in London is to be found in the Holiday Inn at King's Cross
Merrihue, who as far as I can make out is paying for most of this weekend's meals, is clearly a rich man. His firm makes content for companies such as Coca-Cola; he's often travelling anyway and, I suppose, eating anyway, too. By contrast, Chan's colleagues back in Hong Kong largely don't know about his other life. He tweets and blogs under the handle Fine Dining Explorer, and tends to face away in photos. He's in the process of turning his experiences into a book for the Chinese market where, he says, the concept of western fine dining has not yet quite taken root.
Hayler, who originally worked in the oil industry, now combines tech and food trips when he can. Having established himself as the guy who had eaten at every three-star Michelin restaurant, though, he's now become something of a hostage to his own project.
"By far the worst of it," he says, "is going to be Shanghai. To go to a place that is a subsidiary of a place in Hong Kong, which I particularly dislike."
"Right," I say. "And when you find yourself having to go across the world, to visit a restaurant you hate, so as to fulfil some goal that you have quite arbitrarily set yourself …"
"Entirely arbitrarily," says Hayler, grimly.
"Right," I say. "Well. Tell me how that makes you feel."
"In this case?" says Hayler. "Quite angry."
"He got bitten," chortles Merrihue, "in the ass."
What they all share, they agree, is fomo, or the fear of missing out. There's anxiety here.
"You have hit a very sore point," says Chan, gravely.
"Major fomo," says Pak. "Major. That restaurant in Salt Lake City? The entire menu? Too much for two people? We didn't give a crap. Had to."
"Your friend is, like, 'You didn't try that place?'" says Chan.
"'You idiot!'" shouts Merrihue.
"'I can't believe you went all that way!'" says Chan.
"'I can't believe you flew all the way to Mexico,'" shouts Merrihue, "'and didn't have the … whatever.'"
"But only with food," says Pak. "A party here or a party there? I don't care if I miss it. But a dish? I get upset."
"So if I was to tell you," I begin, "about a great meal I had once in Guatemala? In some random roadhouse between a hotel and the airport …"
"Where?" shouts Merrihue.
"Well, I don't know," I say. And he looks at me and sighs, and I wonder what I've done.
It's not all about the big-name places. There's a delight, and perhaps more of a delight, in sharing tales of the unexpected. Thanks to Hayler, I now know that one of the best Indian meals in London is to be found in the Holiday Inn at King's Cross. Merrihue is a massive fan of udon noodles in Wagamama, although I think perhaps only in one particular airport somewhere.
Normally, though, when he's stuck in an airport, he'll get a taxi somewhere else. Not long ago, while flying between Chicago and St Louis, he had a layover in Nashville, which is home to an apparently legendary chicken shack called Prince's. So he delayed his flight by an hour, took a cab, had it wait while he ate "the best damn chicken of my life" and then flew on.
Chan, though, has the best airport story. This was back in 2012, when he was notching up the 50 Best, and booked a table at Fäviken, a tiny, very famous Swedish restaurant in Jämtland, just south of the Arctic Circle. The nearest airport is Trondheim in Norway, which is a two-hour drive away. There aren't direct flights from Hong Kong to Trondheim, though, so first he had to take a 12-hour flight to Amsterdam. All was going well until, on his three-hour stopover, he got engrossed, in the lounge, in a CNN documentary about honour killings. Whereupon he suddenly realised he had missed his boarding call, ran to the gate, missed his flight, and discovered that the next one was the next day, and the next available table at Fäviken was three months later, anyway. So, he flew back to Hong Kong instead, and came back the following winter. This time he made it to Trondheim and only got to the restaurant after spending five and a half hours stuck in a snowstorm. "A crazy journey for a meal," he says, mildly.
The next course is some sort of spaghetti, mixed in with ramen noodles and squid ink.
"Is it me," says Hayler, "or is that … really, really bad?"
"Terrible," says Merrihue.
"Terrible dish," says Hayler. "I don't even want to finish it."
"It should be dissolving," says Chan
"I'm hungry, though," says Pak, tucking in.
Merrihue thinks it tastes like a Pot Noodle.
"I like the light blue Pot Noodles best," I tell everybody, "but they've become increasingly hard to find."
When they don't like something, these guys, they aren't shy of saying so, and loudly. The best dishes, everybody agrees, are the off-menu ones, as requested. Towards the end, we get a pair of cotoletta di filetto – a chunk of beef in flour, eggs and breadstick crumbs. They're delicious, but I can only manage one of them. Everybody else is shocked at my feeble capacity. Everybody else eats everything.
The following morning, slightly after 7am, I pick up Merrihue from the side of the road on a dual carriageway outside Alba. Tonight, after I have gone, the gang are eating at Piazza Duomo, which currently sits at No 17 in the Top 50. Beforehand, he, Pak and Chan want to see the farm where the chef, Enrico Crippa, grows his vegetables.
Last night, I quickly establish, descended into chaos. Hayler had booked himself into a hotel, but the other three were all in Airbnb properties, at least one of which had been owned by people unwilling to open their doors to tipsy globe-trotting gastronomes at 2am.
In the end, Chan slept on Pak's sofa, and Merrihue found a Rivoli hotel. Great at booking restaurants, these guys, but lousy at booking much else.
At the farm, they are all wildly excited.
"Fifteen different types of cabbage!" shouts Merrihue. "It's the most amazing cabbage ever!"
This is where you see the breadth of their fascination. It's not just about eating. In the greenhouse, a gardener called Fabio lets us try many, many types of leaf. A leaf that tastes like an oyster. Stevia, which tastes more like sugar even than sugar does. A leaf that tastes like cheese. A leaf that smells like aftershave. Everything is instagrammed. Crippa himself turns up, loading vegetables into the back of a white van while the foodies stand, beaming, in the mud. He, too, is photographed. Even Pak's shoes are photographed.
"Did you wear spike heels to a farm?" says Merrihue, incredulously.
"Yep," she says.
"I'm tweeting this," says Merrihue.
Thereafter, we go to Alba truffle market.
It would be wrong to think this is gluttony. It is compulsive too
"Bucket list!" cries Pak, who has always wanted to come here. Chan has come many, many times, having first become obsessed with Alba truffles ten years ago, after a giant 1.5kg white one was sold to a casino in Macau for a then record-breaking $330,000. We breakfast on scrambled egg, grated over with truffle, and then we pick up Hayler and are all off in my tiny rented car to Bovio, a one-star Italian restaurant, where you buy truffles by the handful and grate them yourself. By now, my breathing is pretty shallow. I have heartburn. I drink a lot of water. I keep thinking of Chan's friend Jose. I can do this. I can.
Each of these four have a different story about how they caught the food bug. Merrihue went to restaurants with his parents and always loved it. Fairly straightforward. Pak got into food at university, when she spent a term in the Netherlands. She travelled, and combined the travel with food, finding the perfect pizza, the perfect ice cream, the perfect croissant. Chan had never really eaten western food until he spent time in Canada as a student and his girlfriend took him out for a birthday meal. That time, he brushed the truffle to the side of his plate, not sure what these weird, gritty black specks even were. Afterwards, he found the meal haunted him. He went back, then elsewhere, and the obsession was born.
Hayler's story is my favourite, and not just because it is the inverse of Chan's. He ate out for the first time aged 15, when his local cricket club's annual dinner took place at a Chinese restaurant in Bath. "Objectively," he says, "it was really bad food, but I could still tell you every dish I had." Thereafter, he started saving his pocket money. By the time he moved to London in the Eighties, he had started worrying his habit had grown out of hand. So, having heard that Jamin in Paris was the best restaurant in the world, he took himself there with the firm intention of being unimpressed and knocking this silly obsession on the head. "The plan," he says, "backfired horribly."
It's about more than food, all this, isn't it? I've been turning it over in my mind, since I left them there, still munching truffles, and waddled out to my car. In an earlier age, expertise didn't work like this. Experts were accredited, affiliated, approved by higher powers. Somebody needed to give you permission. You couldn't just turn yourself into one.
Although I'm not sure that expertise is quite the key either. In fact, I think it might be an excuse. In an earlier, pre-internet age, these guys wouldn't have known each other and, most likely, wouldn't have known where to eat either, and certainly not on the other side of the world. Now they do, and, the meals are out there, always beckoning, always waiting to be eaten. The dish becomes the book you haven't read yet, the link you haven't clicked yet, the box set you haven't yet watched.
At least the Fantastic Four recognise their fomo. Yes, they tweet what they eat, but I'm not sure, in the end, that the tweeting and the eating are all that different. The world today is both endless and at our fingertips. We can see it all, and we want it all, and yet we shall always be hungry. Well. In a way.
What they ate for dinner on Friday
13 courses, £170 per head plus wine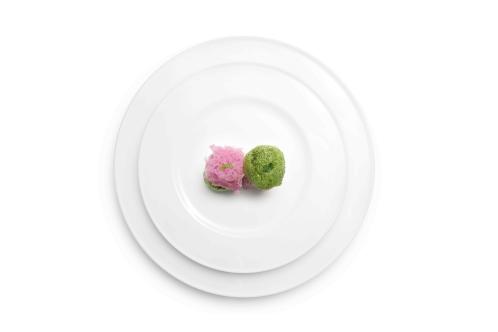 1. Amuse-bouche (above).
2. "All'ortolana" pigeon.
3. Gin and kidney.
4. Saltimbocca zero.
5. Felicetti trick spaghetti, ramen and squid.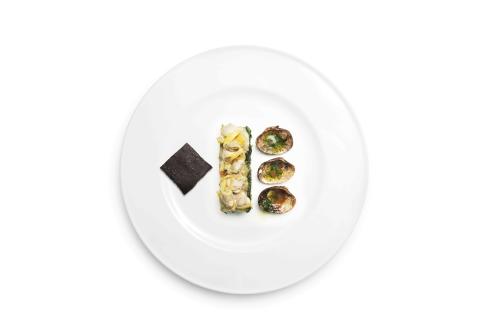 6. Verace aubergine.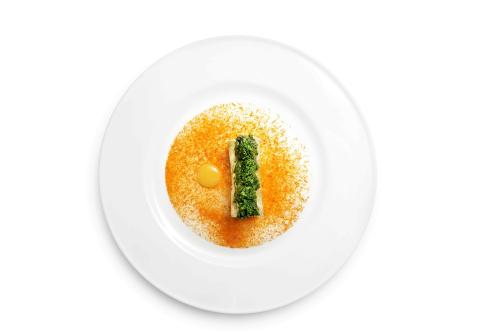 7. "Louboutin" pepper and anchovy.
8. Bubble milk.
9. Scallop 5 points "Sassoon Vidal".
10. Iced salad and oysters.
11. Little midnight doughnut.
12. Chocolate.
13. Cold fusion.
Up & Down menu at Combal.Zero, €200/£170
What they ate for dinner on Saturday
17 courses, £200 per head plus wine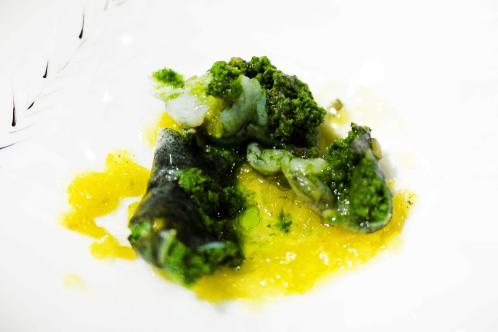 1. Green anchovies (above).
2. Polenta with rabbit ragu.
3. Steamed pancake roll.
4. 21 … 31 … 41 … salad.
5. Scallops, sea urchin, pecorino.
6. Whipped cream, turnip gelée, turnip cubes.
7. Cod and pumpkin.
8. Veal carpaccio "meatball".
9. Potato cream and black tea.
10. Agnolotti.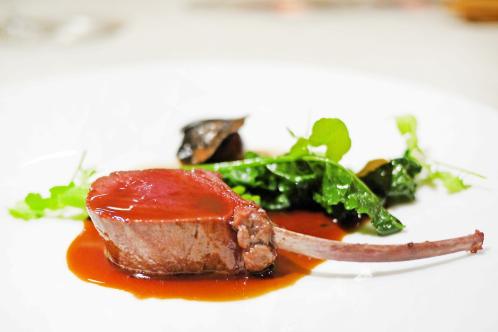 11. Deer, foie gras sauce.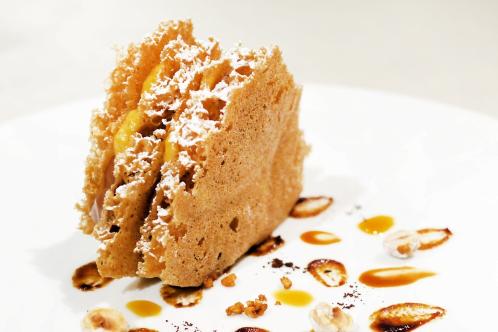 12. Hazelnut ice cream.
13. Truffle hunting.
The group had four additional courses
Evasione e Territorio menu at Piazza Duomo, €240/£200