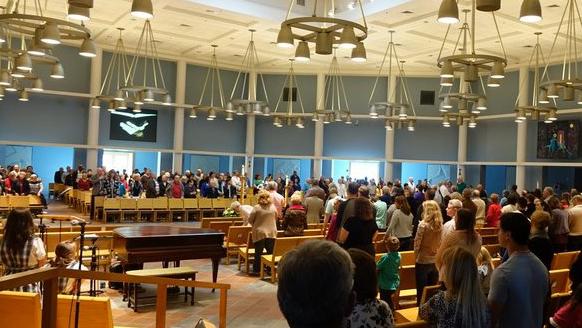 A Galway priest used an elderly parishioner's funds to live an extravagant lifestyle that included restaurant meals, car rental and more than $900 (€850) spent in a sweet shop, police in Orlando, Florida, have claimed.
Prosecutors want to examine Father Nicholas King's bank records after police alleged that he spent more than $10,000 on an event to celebrate his 50th year as a priest, including $500 on a cake.
Father King, 73, is accused of taking tens of thousands of dollars from the account of Jeanette Wieske, a 79-year old widow, and sending $6,000 of the money to his sister in Ireland. He also allegedly spent $9,000 on a car; $3,009 in a mattress shop; $314 in an off-licence; $183 in a wine shop; $937 in a restaurant and $916 in Grimaldi Candy Store, a shop that specialises in chocolate-covered crisps.
The money came from an account that Ms Wieske set up to help St Mary's Church in Rockledge, near Orlando. Father King then diverted the money to his private account without telling church officials, police claim in court documents.
The Orlando diocese said that $31,200 withdrawn by Father King was unaccounted for and that it had reimbursed that sum to Ms Wieske. The diocese has suspended him pending the outcome of the investigation.
Lynne Hooper, a spokeswoman for the Brevard County prosecutor's office, said that prosecutors would decide whether to press formal charges for larceny and fraud in the coming weeks, after seeing Father King's bank records.
Father King was arrested in September. He was released after posting $87,000 bail.
In his affidavit seeking an arrest warrant, Tim Herbener, a police officer, told a Florida circuit court that Father King could flee back to Ireland and that he should surrender both his US and Irish passports.
He claimed that Father King was taking money from Ms Wieske's account to fund his lifestyle. He added that Father King had "wilfully and intentionally committed the acts mentioned".
Staff at St Mary's Church and school had raised concerns about Father King's spending last June, police said. The situation became more acute in August, while Father King was visiting family members in Ireland.
In an email marked "Emergency, Call Me!", a staff member told the church's financial manager that Ms Wieske had noticed that Father King withdrew $31,200 from her church account for "minor repairs" and that $10,200 of it did not to go the church.
"Father King is in Ireland and she has not talked to him about it," the staff member wrote.
That prompted an internal investigation and the diocese decided to call the police.
Father King grew up in Galway and two of his sisters became nuns. He studied at St Mary's College, Galway; St Patrick's College, Thurles and All Hallows College, Dublin and after his ordination in 1966 immediately began work as a priest in Florida.