From golden eagles to grizzly bears, our pick of the best trips to see the stars of Planet Earth II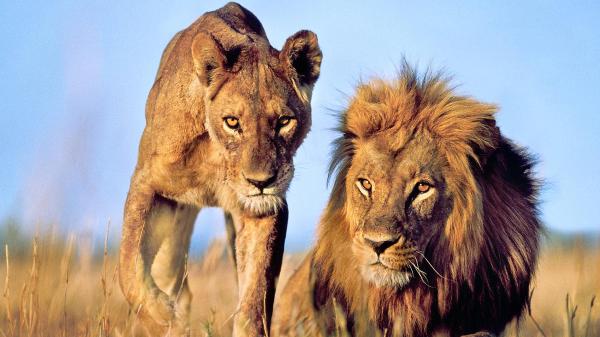 Lions in Botswana
The Planet Earth II film crew spent five months holed up in the Okavango Delta to capture the swamp lion taking on their deadliest opponent, the cape buffalo, in the flooded grasslands. You probably don't have the luxury of so much time, but it is possible to tick off the big five on a safari — and in Botswana there are fewer tourists than you'll find in hotspots such as the Kruger National Park in South Africa. Lions are the big draw and, having adapted to their watery environment, they are often seen hunting in the wetlands.
Details Five nights' safari staying at two camps costs from £4,160pp, including flights, light-aircraft transfers, activities, meals and drinks (028 9073 6050, mahlatini.com)
Grizzly bears in Alberta, Canada
You need to get up early to have the best chance of spotting the elusive grizzly bear, because it's at dawn that the animals feed. Travelling in May — when the bears wake from hibernation — is a good bet and next year all national park fees are waived in celebration of Canada's 150th birthday. Banff National Park and Jasper National Park are prime viewing territory, especially Highway 1A that runs from Banff to Lake Louise. But keep your distance… or you'll be dinner.
Details An eight-night tour costs from £1,975pp, including flights and car hire (020 8776 8709, frontier-travel.co.uk)
Bobcats and bison in Yellowstone, Wyoming
Despite bobcats being America's most common wild cat, spotting them requires patience and an early start. Yellowstone National Park is home to many, and they slink about in rocky areas, rivers and forests. Bison, however, are easier to see, and there are about 5,000 in the park.
Details A ten-night fly-drive costs from £2,495pp, starting in Jackson Hole, with stays at Mammoth Hot Springs and Yellowstone (0800 3160194, bon-voyage.co.uk)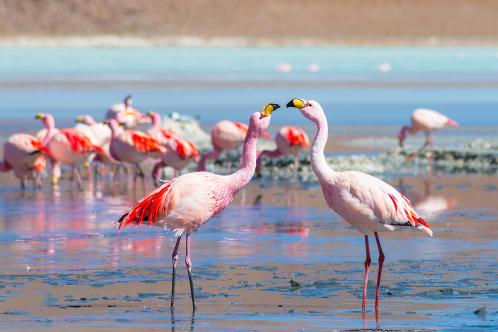 Flamingos in Chile
It's one of the most remarkable sights of the series — a vast stand of vivid pink flamingos whizzing across a huge lake in San Pedro de Atacama. Spot them yourself on the multicoloured Altiplano lakes before travelling across the vast Salar de Uyuni salt flats of Bolivia. Then return to Chile to finish your trip in laid-back Santiago, with its impressive Andes backdrop.
Details A 13-day tour costs from £3,495pp, B&B, staying in a range of hotels, from a small community-run lodge in the desert to a grand manor-style property, including flights (0843 7789926, steppestravel.co.uk)
Jungle life in Costa Rica
The jungle — it covers less than 6 per cent of land, but is home to more than half the plants and animals on earth. In Costa Rica you'll find a variety of species from glass frogs to toucans, parrots and sloths. Starting in San José, the tour carries on to the Los Quetzales National Park and the Osa Peninsula rainforest.
Details A 12-night full-board tour leaving on December 2, 2017 costs from £5,995pp, staying in lodges and including flights, transfers and guides (01962 302086, wildlifeworldwide.com)
Snow leopards in India
There are fewer than 3,500 snow leopards in the wild, and spotting them requires joining an organised tour. Starting in Leh, a small town high in the Himalayas, this tour heads on to the Ulley Valley. You'll be accompanied by a local guide, who will talk to shepherds and farmers for tips on sightings. In all, five days are spent hunting snow leopards, blue sheep and ibex in four-wheel-drive cars and on foot.
Details A 13-day tour leaving on January 22 costs from £3,595pp, including hotels and homestays, most meals, internal flights and a donation of $200 (£160) to a snow leopard conservancy (0843 7789926, steppestravel.co.uk). International flights cost extra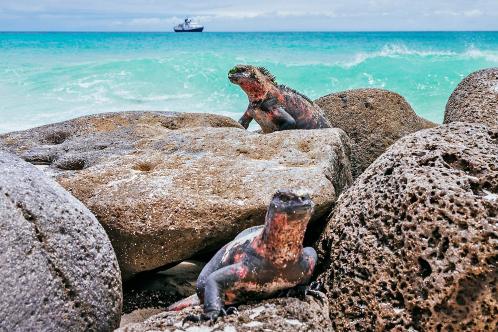 Marine iguanas in the Galapagos
It has been called one of the greatest television moments — a hatchling iguana running for its life as it is chased down by wily racer snakes, eventually escaping their clutches. Fernandina Island, where the scene was filmed, is popular with marine iguanas, and the best way of spotting the region's wildlife is to take a cruise round the islands. Expect to see giant tortoises and a variety of birds too. Spotting snakes, however, is a rarity — a shame for wildlife lovers, not for the iguanas.
Details Six nights cost from £3,139pp, (0800 1884503, roundtheworldexperts.co.uk) including flights, transfers and some meals. Three nights are spent on the Queen of Galapagos catamaran, the others in a four-star hotel

Elephants in Kaziranga, India
See elephants in their natural habitat on a tour taking in Mumbai and New Delhi, as well as Bhutan's dramatic Himalayan landscapes and the lush Indian rainforest. The trip also visits the Kaziranga National Park, where game drives include spotting elephants, leopard and one-horned rhinoceros.
Details A ten-night full-board tour costs from £2,575pp, including internal flights, transfers, guides and game drives (01822 600600, ganeandmarshall.com). International flights cost extra
Eagles in the Alps
Walk across the roof of Europe, following the much-fêted Haute Route from Chamonix in France to Zermatt in Switzerland. Along the way spot soaring golden eagles and bearded vultures as well as ibex, chamois and mountain hares. The route can be walked in the summer and early autumn.