Anyone who's ever ventured to the magical city of Prague knows that covering even just its most essential sights in one weekend will be no easy task. The best way to experience the historically rich and ethereally beautiful city is by strolling its streets and parks at your own pace – but if you really don't have the luxury of time, read on to find out which sights and experiences are worth cramming into a tight schedule.
The History of Prague
A quick insight into the background of Czech Republic's capital city might help travelers appreciate some of the unique and historical landmarks that define Prague.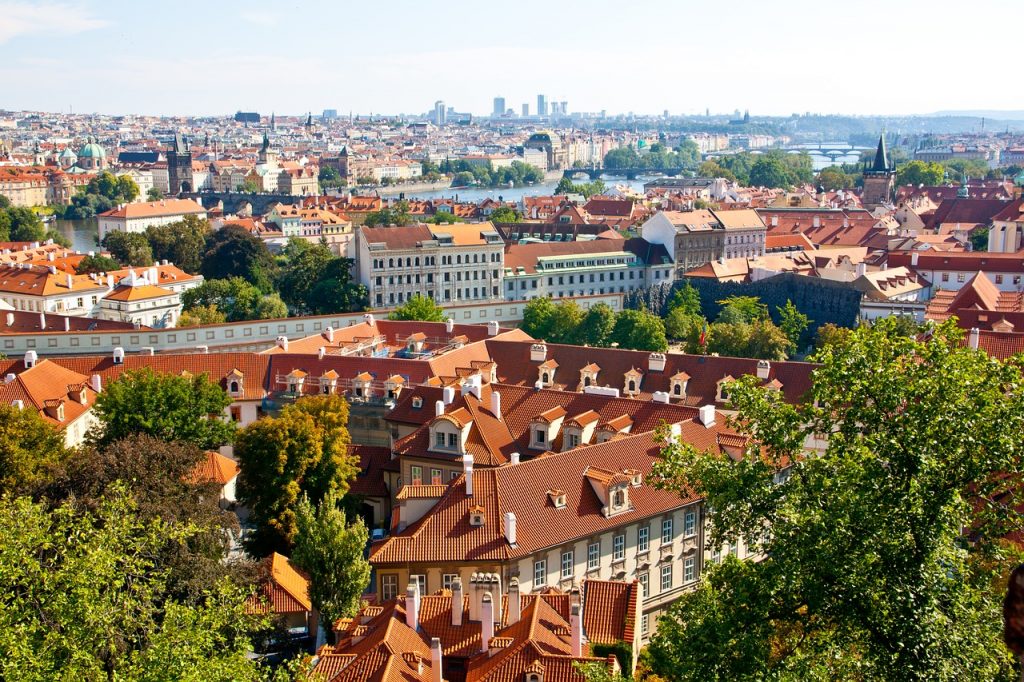 Charles IV, King of Bohemia and Holy Roman Emperor ruled Prague between 1346 and 1378. It was his work that helped transform Prague into a beautiful residential capital. He reconstructed cathedrals in High Gothic style, built new luxurious buildings and founded what is not the oldest university in Central Europe – Charles University. Charles IV was also responsible for the New Town of Prague, with its architectural gems like Charles Bridge and St Vitus Cathedral. Prague briefly became the most populous town in Europe during this time.
In 1618 there began a 30-year war between the Catholic Hapsburgs and the resistors, marked by the moment the king's governors were literally thrown out of a window during a dispute. The 'Battle of the White Mountain' ended the war, with the Hapsburgs emerging victorious and decapitating twenty-seven leaders of the resistance in the Old Town square. This was followed by the Dark Ages for Prague. Its former glory was partly returned when Hapsburg Queen Maria Teresia reformed the town in the 18th century. She made education mandatory for children, and helped initiate trade and commercial production in Prague.
Prague and Czech Republic as a whole have of course undergone dramatic and historically significant change since the 18th century, such as the brave resistance against Nazi forces, a communist occupation under Stalin, the change from a monarch to a republic state, and the split from what is today known as Slovakia.
Sightseeing
As obvious from the above, Prague is home to some ambitious and enchanting architecture. Gothic gargoyles and ornately decorated dome churches can be spotted at every turn, while even franchises like Starbucks and McDonalds are given a Czech touch in Prague, as they're found inside quaint and colourful buildings.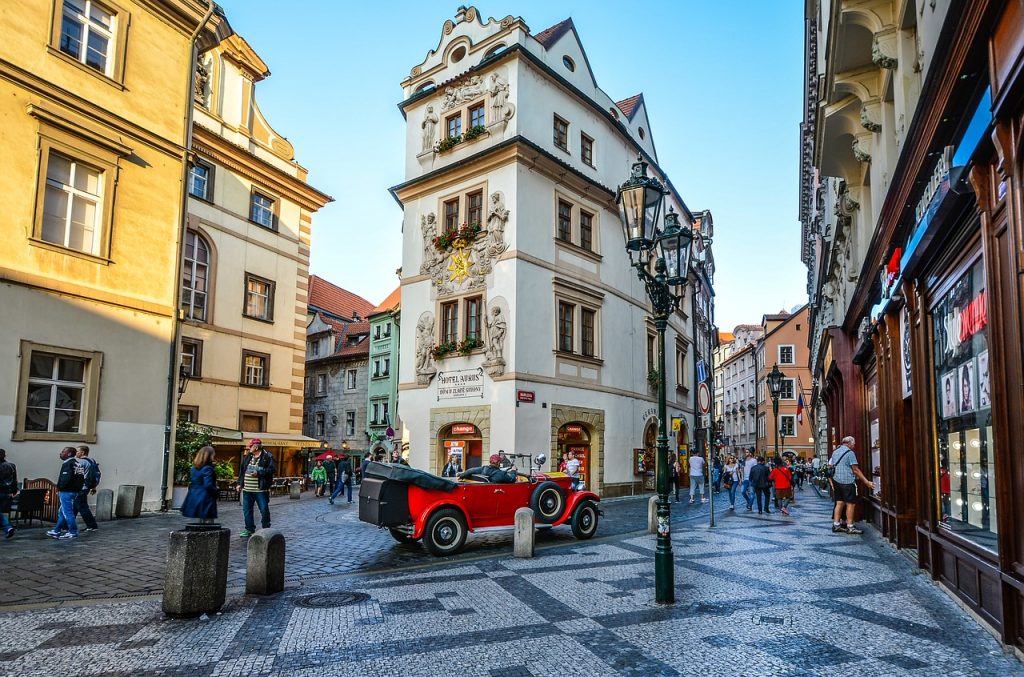 The so-called 'Old Town' in Prague is the remains of Medieval settlements, with a Jewish Quarter in the Northwest corner. Some incredible sights to see here include the Astronomical Clock (a giant and gorgeous Medieval clock that is the oldest of its kind) and the gargoyle-lined Charles Bridge, which takes you over to the most historical part of Prague which is where you'll find the famous Prague Castle. While making your way up to Prague Castle, you'll be treated to a glorious view of the city – red roof houses and luscious hills in the distance.
Inside the UNESCO Heritage Site that is Prague Castle, you must see the majestic St Vitus Cathedral, St George's Basilica, Old Royal Palace and Golden Lane. Within short walking distance of the fortified castle you'll also find Prague's National Galleries, where several Renaissance and Romantic exhibitions can be explored by art lovers.
On a sunny day, you should be sure to visit one of Prague's many tranquil and blossoming parks. Shooters Island is a lovely park situated in the Vltava River. This is a great place to enjoy a picnic, play some tennis or hop on a riverboat cruise.
When to Visit
Summers in Prague are perfectly warm, with temperatures averaging between 20C and 27C – although recent years have even seen temperatures soar to 32C! This period is when most of the tourists arrive, so if you prefer to visit during quieter seasons then aim for Spring and Autumns. The weather during these seasons are usually clear but you're advised to bring a good jacket. Snow, meanwhile, is the likely forecast in December and January, which is also a pleasant time to visit because of the festive decorations and cosy Christmas markets.
Some events and festivals worth mentioning before you plan your visit include St Matthew's Fair which runs from February to Easter. During this fair, you can enjoy numerous fairground rides and attractions at the Prague Exhibition Grounds. Children are especially likely to enjoy this annual event. Prague also regularly hosts the European Poker Tour which is modeled after PokerStars' famous online poker tournaments and attract the biggest professional poker players from all over Europe. In May, meanwhile, Prague also hosts the Prague Spring International Music Festival where you can watch shows and concerts from a range of different artists.
Where to Stay
Clean and pleasant hostels are plentiful (and cheap!) across Prague, so this is the perfect option for the solo or budget traveller. If you're looking for a hotel experience in an idyllic location for your short visit, then consider the luxurious Alchymist Grand Hotel and Spa or, for something cheaper, the Hotel Clementin in the Old Town.
What to Eat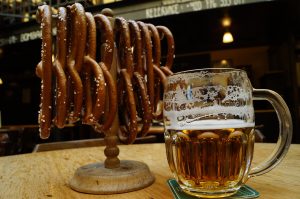 Surrounding the Old Town is the 'New Town' of Prague, with plenty of restaurants and cafes to suit your every preference. Vegetarians and vegans can rest assured that they'll find options at one of the many trendy meat-free eateries across the city, while beer lovers can stroll down the cobblestone streets lined with breweries and taverns in the Old Town. Some traditional dishes to try at the many restaurants here include the 'Bohemian Platter' of roast duck, roast pork, beer sausage, white cabbage and potato dumplings.
The Czech Republic has a traditionally Slavic cuisine, known for its sauerkraut, apple strudel and fried cheese. For those of you with a sweet tooth, don't miss Prague's Chocolate Museum, and be sure to pick up an indulgent donut ice cream cone from one of the many vendors selling them throughout the city. Serious foodies can also go on a Prague Food Tour to experience the best of Czech cuisine.
Where to party
Prague's nightlife is legendary across of Europe. Though mostly famed for its iconic clubbing scene, you'll also find plenty of quieter and classy cocktail bars across the city. Some of the biggest clubs include ROXY and OneClub. If you want a night of retro music and dancing,  head to either the Lucerna or Retro Music Hall. For drinks in a more quiet setting, treat yourself to some top notch mixology at Bugsy's Bar, Parlour or Hemingway Bar.
Where to shop
Hand-made Bohemian crystal glassware makes for an excellent souvenir or gift. Shot glasses, vases and decorations can be purchased at any of the many Bohemian glassware stores. Alternatively, pick up a bottle of local absinthe to take back home. For clothes shopping, both the Old Town and New Town offer plenty of shops from famous international brands.
How to use transport
Though there is an underground metro in Prague, your best bet for transport to and from the main attractions in Prague is on the city's red trams. You'll need to buy a ticket from vending machines or some shops before hopping on one of these frequent trams which will take you to various parts of the city.
Prague, one of Europe's most beautiful cities, is full of picturesque landscapes, fairytale castles and warm, welcoming people. It's difficult to not fall in love with this dreamy place and, whilst there's so much to be explored in this historical city, we hope this guide helps give a helpful introduction for those unsure of where to start.