Many travellers are throwing in the towel on beach holidays in favour of quirky activities. If you would rather shear sheep and stalk vampires than sunbathe or siesta, here's 25 breaks that could be a real trip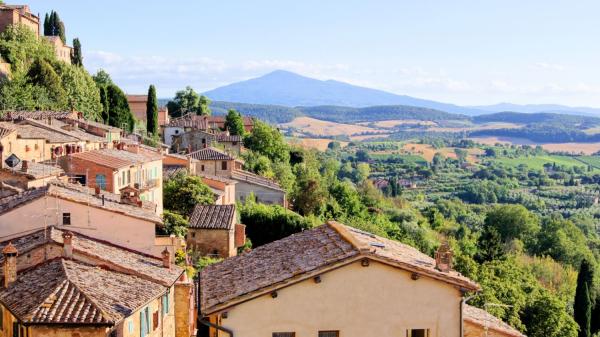 These days, travel is less about the destination and more about what you do when you get there. If you are bored of listing from museum to restaurant on short city breaks, or can't bear the thought of a week consuming airport novels on a packed beach, something more adventurous might be in order. How about sheep shearing in Africa, or a wild goose chase in Holland — where you chase actual geese? These are just a couple of the themed holidays that might be more your speed than the seaside.
SNAP TO IT IN ITALY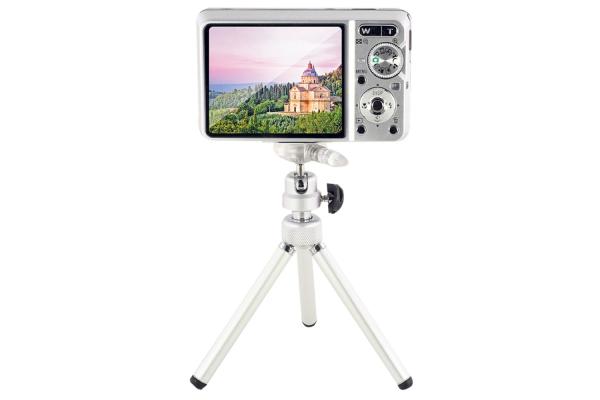 If you must learn photography, Italy offers some of the best subjects at which to point your lens. TDactive Holidays and Dublin Photography School are offering a trip to Tuscany, where you can capture the region's dramatic scenery, architecture and culture under the guidance of award-winning landscape photographer Stewart Kenny, plus one of the school's expert tutors. On this three night holiday you will stay in Lucca, the walled city where composer Puccini was born, visit the Piazza and marketplaces of Florence, and see the Cinque Terre — the string of ancient villages on the rugged Riviera that is rated a Unesco World Heritage Site and is impossible to make look ugly in print. Kenny and the tutor will accompany the group, offering tutorials, demonstrations, and tips. Prices start from €799pp for three nights including three-star B&B hotel accommodation, return flights from Dublin, transfers and excursions, departing March 25, 2017. tdactiveholidays.ie
SHEAR BLISS IN LESOTHO
Follow in the hoof-steps of the Basotho herdsmen and view Lesotho's mountain scenery from the back of a horse. You can then try your hand at sheep shearing en route to a local village, where you can chat with locals and have a drink at the Sani Mountain Lodge — the highest bar in Africa. It's all part of a 19-day Kruger to Cape Town tour by Acacia Africa, from €1,095 per person (no single supplement). Flights are extra. acacia-africa.com
LLAMA DRAMA IN THE LAKE DISTRICT
You need only go as far as northwest England to get up close and personal with your very own fluffy llama. Ideal for short-hop family hols, Lakeland Llama Treks takes you on a guided tour around the beautiful Eden Valley in Cumbria's Lake District, offering one hour mini treks as well as longer countryside trails (from €30pp, lakelandllamatreks.co.uk). In nearby Penrith, stay at the Llamas Pyjamas, a family-friendly boutique-style B&B (from €140 for two nights, llamaspyjamas.co.uk) or the award-winning 18th-century Grade II-listed Whitrigg House in Clifton (rooms from €70, whitrigghouse.co.uk).
GO EVERY WITCH WAY IN LANCASHIRE
The Pendle Witch Trails are a series of walking and driving routes through Lancashire that illustrate the superstition, fear and religious persecution that led to 10 local people being executed for witchcraft in 1612. The trails include the Pendle Sculpture Trail, the Walking with Witches Trail around Pendle Hill (where witches-on-broomsticks markers lead the way), and the Lancashire Witches Driving Trail as far as Lancaster Castle, where the so-called witches were imprisoned and tried before being hanged on the moors beyond the city walls. If you can manage to sleep, bed down at the Barley Mow, a gastropub with a hunting lodge interior and rooms from €95. seafoodpubcompany.com; visitlancashire.com
FANG OUT IN ROMANIA
Some holiday clichés are a delight, like spending Hallowe'en in Transylvania. A seven-day round-trip from Bucharest takes you through one of Europe's most charming and underexplored regions, full of stunning Gothic architecture, lush forests and friendly people. So far, so not scary — but the real fun happens after dark. This All Hallows' Eve, you can rub shoulders with vampires at a costume party in an authentic "haunted" Transylvanian castle. Priced from €999pp, not including flights. Fly from Dublin to Bucharest with Ryanair from around €50 return. gadventures.com
MILK IT IN AUSTRIA
Like animals? Enjoy an early start? Farms in Austria's east Tyrol are offering Farmer for Three Days experiences, where you rise at dawn for the first milking session, feed the cows and pigs, and sit down to a farmhouse breakfast — all before 7am. At the Bartlerhof farm, visitors can also help owner Regina Berger turn fresh milk into yoghurt, butter and graukäse (Grey Cheese), a Tyrolean speciality. Stays at Bartlerhof start at €385 for two adults for seven nights, including breakfast, while the farming experience costs €45 a head. Flights are extra: fly Aer Lingus from Dublin to Munich, or Dublin to Innsbruck via London with easyJet. farmholidays.com
MAKE THE ALPS A MUSH-SEE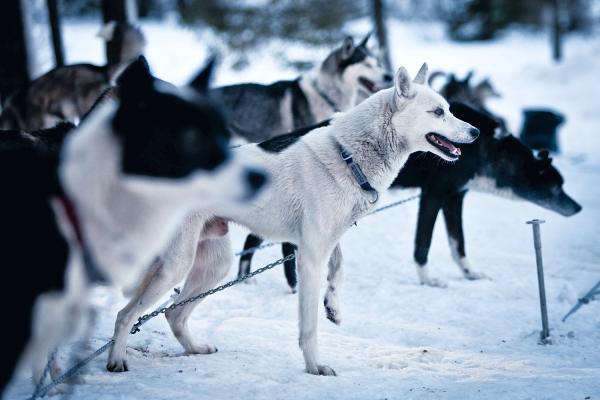 How about a sport of "mushing"? That's dog sledding to you and me, and between January 14 and 29 you can join a sled camp, meet the mushers and watch the sled races at PillerseeTal in the Kitzbühel Alps. Activities include sleigh rides, igloo building, and for the brave, a three-day husky course where you can learn to mush with the experts. It costs from €298 per person (based on two sharing) for four nights' accommodation, the three-day mushing course, and some meals. kitzbueheler-alpen.com; visittirol.co.uk
BRANCH OUT IN BRITISH COLUMBIA
Canadian indigenous art literally grows on trees, and on this unusual holiday, you can learn it for yourself. At British Columbia's Echo Valley Ranch & Spa, resident Gitxsan artist Michael Blackstock demonstrates how native people have carved images on living trees for thousands of years, conducting spiritual tree carving tours that end with a ceremony to thank the tree. Decamp to the Baan Thai spa, go gold panning on an original gold rush trail, or try fly fishing. Six nights cost from €1,391pp (based on two sharing), including accommodation, meals, a half-day's riding daily, unlimited fly fishing and nature hikes, but excludes car hire and flights. Available from May through to October. ranchrider.com/ranches/echo-valley-ranch
GET THAT INKING FEELING IN LISBON
The Portuguese capital really gets under your skin on this trip to the Memmo Alfama, the first boutique hotel in Lisbon's historic Alfama quarter. It is offering a bizarre package: book a stay and get a tattoo (a real one) from Bad Bones, one of the most famous tattoo parlours in the city. It costs from €215 per room per night on a B&B basis — including the tattoo. Fly direct to Lisbon with Aer Lingus. memmohotels.com
FLOAT YOUR OWN BOAT IN ITALY
Cruise the canals of Venice and the gentle rivers of northern Italy, DIY-style, by manning your own hired boat from the city to the coastal towns of Jesolo, Caorle and Bobione. It costs from €2,070 for a seven-night self-catering voyage aboard the Mystique, which sleeps eight. Aer Lingus flies to Venice. emeraldstar.ie
EAT ON CRETE
Learn to cook the Cretan way in the mountain village of Kritsa, one of the oldest and most picturesque spots on the Greek island, where the women's cooperative teaches traditional pie-making. Try local delicacies in the nearby Paradeisos taverna, such as eggs with staka (a roux made from goat's milk) or dakos and lamb with stamnagathi (a wild leafy green). It costs €108 per head for guests of Domes of Elounda, where the A-listers like to hide out. domesofelounda.com
GRIN AND BEAR IT IN WEST SUSSEX
The king-sized bed is not too hard, not too soft, but just right at Little Bear, a rustic romantic cabin in a bluebell wood near Billingshurst in the Weald Downlands of West Sussex. There's a wood-fired hot tub, a walk-in shower for two, a wildflower garden with firepit, faux furs everywhere and no wifi or TV. If that all gets far too romantic, high-tail it to the nearby inn for a pie and a real ale. From €845 for a three-night weekend off-peak. Fly to Gatwick, a 90-minute drive from the cottage. uniquehomestays.com
TAKE A GANDER AT THE NETHERLANDS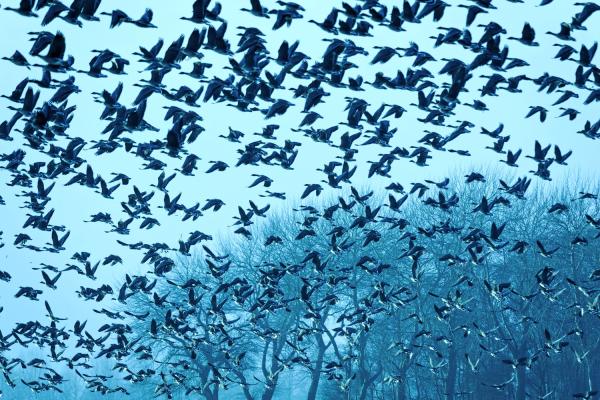 A superb short winter break for committed twitchers, this trip allows you to view flocks of geese, long-eared owls and other winged things with Dutch birdwatching expert Arnoud van den Berg. Starting at the forests near Harderwijk in the central Netherlands, spend three full days in Flevoland, Friesland and Zeeland, where from November through to March, tens of thousands of barnacle, brent, white-fronted and bean geese flock each winter. There are also plenty of ducks, swans, goosanders, black woodpeckers and birds of prey. It costs from €1,160pp, including four nights of full-board accommodation, transfers and activities. Fly Dublin to Amsterdam with Aer Lingus and Ryanair. thetravellingnaturalist.com
BONA FIDE BUENA VISTAS IN CUBA
Live with a local and get to know the real spirit of Cuba. Homestay, which connects guests to local hosts in over 150 countries, has more than 250 listings for casas particulares — private houses — in the colourful Latin republic: stay with Idaisys and her family in the small inland town of Viñales, in an air-conditioned double room with your own entrance and bathroom (from €18 per night); or with Maritza in a renovated apartment in Havana's Vedado district (double with private bathroom from €22 per night). Breakfast is always included, as are some other meals, the host is always present, and they speak English. homestay.com
GET OVER THE HUMP IN OMAN
Camels compete at speeds of up to 64kph on specially built tracks in Oman, where the Arabian tradition has evolved into an official sport, complete with camel farms and intensive training programmes. After a day watching them race, you can stay in a Bedouin tent among the dunes at the 1000 Night Desert Camp in Wahiba Sands. Tents start from €1,113 for a three-day itinerary. Fly to Oman from Dublin with Etihad. 1000nightscamp.com
ENJOY SECLUSION IN SCOTLAND
The Isle of Eriska is set on its own 300-acre private island accessible only by the bridge connecting it to the Argyll mainland on the west coast of Scotland. It has a Michelin-starred restaurant, a golf course, a spa — but the best days out involve spotting the locals: red deer, otters, badgers and golden eagles. You can go wild water swimming, clay pigeon shooting, sailing and fishing and choose from a five-star room or a self-catering house to fit a whole family. Fly from Ireland to Glasgow and drive across to Eriska, or get the ferry to Stranraer and make a road trip of it. Rooms start at €430pp, based on two sharing. eriska-hotel.co.uk
HAPPINESS IS A HAMLET, FRANCE
Why rent a house when you can nab an entire hamlet and never need worry about bothering the neighbours? If you are holidaying with a large group, or getting hitched and need accommodation for your wedding party, the petite commune of Figuiers on the Dordogne/Lot border in southwest France can be all yours. It can sleep up to 22: eight in the main house (with its own chapel and swimming pool), 10 in the Maison d'Amis (also with a pool), and two cottages, each sleeping two — ideal for grandparents or couples with young babies. The pretty village of St Julien de Lampon is five minutes away with shops, a baker, a butcher, a weekly market, cafés and restaurants, and the host can arrange a chef, babysitting, wine tasting, local tours and bike hire. A week in Figuiers costs from €7,450 (€339pp based on 22 sharing), to €11,650 (€530pp based on 22 sharing) in high season. The nearest airports are Toulouse and Bordeaux, both served by Aer Lingus. simply-perigord.com
HEAD FOR THE HIMALAYAS
The little known Kumaon region of Uttarakhand, set in the Himalayas of northern India, offers some of the most stunning mountain scenery on earth and, thankfully, nearly zero backpackers. Stay in traditional houses as you hike between remote villages, passing Hindu temples, markets and rhododendron forests. Finish at the resort of Shakti 360° Leti, nestling at 2,440m in the mountain wilderness, which offers four private guest pavilions, gourmet cooking, fireplaces, pashmina-dressed beds, yoga and meditation sessions, and — as the name suggests — a 360° view of the Himalayas. Shakti Himalaya offers an eight-day Kumaon village walk, combined with a stay in Shakti 360° Leti, from €5,261 per person, based on two sharing. This includes full board accommodation in three village houses and a private cottage, all activities, an English speaking guide, a private chef, support guides and porters, and a car at your disposal. It also includes return transfers from Kathgodam station or Pantnagar airport. Fly with BA via Heathrow to Delhi. shaktihimalaya.com
CAUSE A 1925-STYLE FLAP IN NEW YORK
Make like a flapper for a Great Gatsby-inspired weekend in the Big Apple. Base yourself at The Chatwal on 44th Street in Manhattan, where architect Thierry Despont has revived the art deco look: the wardrobes are modelled on Louis Vuitton trunks, there's plenty of chrome metal, suede walls and wood panelling, and the cocktail menu features classics such as the Moscow Mule. Shop on nearby 5th Avenue — where Nick Carraway, narrator of F Scott Fitzgerald's 1925 novel, went browsing with Tom Buchanan — followed by lunch at Minetta Tavern, a former speakeasy with a time-capsule interior. Get tickets to a Broadway show — the hotel is within walking distance of the theatres — then grab a nightcap at the Empire Room, a Twenties-style cocktail lounge in the Empire State Building. Doubles from €620. thechatwalny.com
MAKE A TRUNK CALL TO SRI LANKA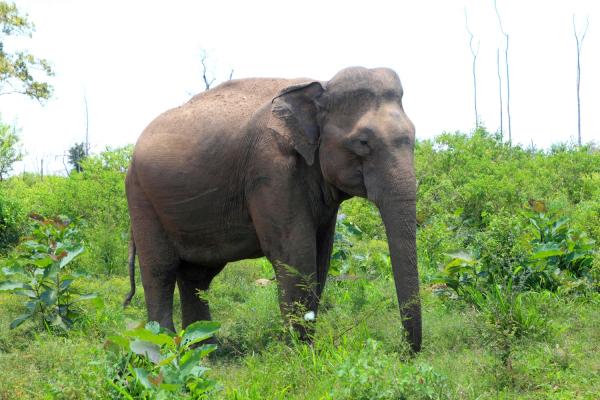 If you love elephants but don't want to support the often cruel practices that accompany their use as tourist entertainment, a humane alternative is a visit to the Udawalawe Elephant Transit Home, which rehabilitates orphaned elephant calves for ultimate release back into the wild. You can observe elephants living as a herd, and watch baby feeding time, from the respectful distance of a viewing platform. The visit is included in Rickshaw Travel's bite-size trip the Wild Heart of Yala National Park, from €220 per person and includes one night's accommodation (based on two sharing) with breakfast, jeep safaris with guide, and national park entrance fee. rickshawtravel.co.uk
THE GREATEST SHOAL ON EARTH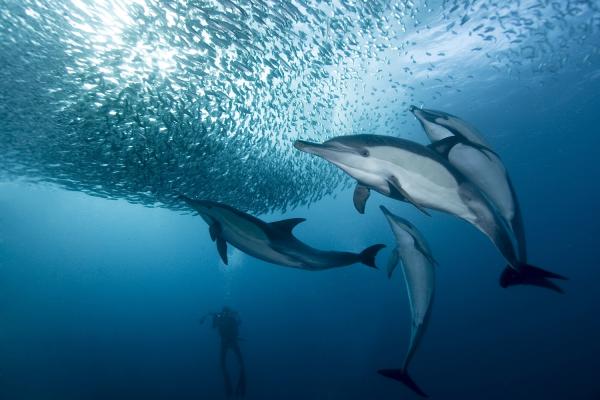 Off the KwaZulu-Natal coastline of South Africa, the warm, south-flowing Agulhas current and the cold, north-flowing Benguela current meet, creating ideal conditions for June's massive sardine run — an annual phenomenon that prompts the biggest gathering of predators on the planet. Millions of sardines form a gigantic smorgasbord that attracts bottlenosed dolphins, dusky black-tip and bull sharks, tuna, seals, and orca, humpback and Bryde's whales. five days Next summer you can go diving and spot almost every species of marine animal at Aliwal Shoal, one of the top dive sites in the world. The Sardine Run Adventure starts from €2,180pp with flights, including all transfers, seven nights' B&B accommodation, two dives at Aliwal Shoal, and five days' tanks and weights. diveworldwide.com
STEPPE BACK IN TIME IN MONGOLIA
Genghis Khan was one of the world's most fearsome rulers, his brutal campaigns ensuring that his 13th century empire once covered nearly a quarter of the world. Not the most obvious subject for a relaxing vacation, but ideal for those who want to combine action and history. Responsible Travel's Genghis Khan Warrior Training in Mongolia trip begins with a visit to the Mongolian Military Museum in the county's capital Ulaanbaatar, and then out into the steppe, where training begins. Over seven days you will learn skills such as how to shoot a bow and arrow (while standing and on horseback), and how to herd, ride and lasso a horse, along with wrestling techniques and how to cook traditional Mongolian dishes. It costs from €3,095pp for nine days; return flights from Dublin to Ulaanbaatar via Abu Dhabi cost from €900. responsibletravel.com
STRICTLY CANNES DANCING IN FRANCE
An all inclusive four-day dance camp and fitness break in the Chateau Lou Casteou near Cannes lets you try merengue, bachata, cha-cha, salsa and kizomba in luxury. Catering for beginners and improvers, all meals are either served around the chateau's pool, in its historic cloisters or period reception rooms. It costs €1,460pp for a private en-suite room with sea or mountain views or €1,105pp for two guests sharing. The price includes four days' accommodation, all meals with wine, a champagne reception, daily dance and fitness classes, excursions, and transfers from Nice airport. Fly there with Aer Lingus. loucasteou.com
ROCK ON IN A SPANISH CAVE
For a Stone-Age experience without the prehistoric facilities, try the Caves Balcones de Piedad — authentic dolmen "cave houses" located in the Guadix region of Granada that sit in a huge canyon which looks exactly as it did 100,000 years ago. The cave dwelling has two bedrooms (sleeping four) with a shared pool — the water comes from an 8m cave, purified through siliceous earth that makes it appear turquoise. A week's stay starts at €920 total or €230pp if four share it. Flights are extra: try Iberia to Granada. spain-holiday.com