During my freelancing work as a hiking and tourist guide, I am often charged with taking people around places of interest that stimulate their creativity. Whether it's Writers, Artists or Musicians, everybody can take some inspiration from the captivating New Zealand landscape.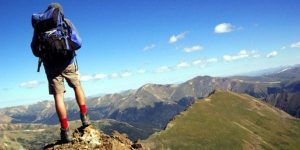 If you've never stopped to take the time to explore the beauty of our coastal area and countryside surroundings, maybe now is the time to don a pair of walking boots, grab your notebook and pen and get out there. Who knows what inspiration you'll derive as you take to the great outdoors!
Take the Opportunity to Listen
We are all guilty of creating so much activity in our life, and relying on a background of noise, that we often forget to take a few minutes out each day and appreciate the little things that make up this beautiful landscape. From the bird's morning song, to the rustling through the trees and the crashing of the waves to the shore, how many of us just sit and listen to what is around us? When you switch off the TV, the radio and mute the phone, you'll find that nature has its very own soundtrack!
Appreciate What's Around You
Perhaps like myself and many others who hike, you've walked a mountain a few times now and think you possibly can't find anything else from the same path. But have you taken in the beauty of the landscape as you've walked, or have you had your head down throughout most of it, determined just to get to the top? I am guilty of this on those more challenging of climbs; I'm often so hyped to make it to the top in record time, that I often fail to spot the beauty of the path that is right in front of my nose, let alone the enchanting scenery at either side of me!
Mark the Changes of Seasons
The many creative individuals that I have guided through some of my mountain walks have mentioned how they gain a surge of inspiration by visiting an area at the beginning of each new season. If you have never tried this, this is one to get those creative juices flowing! Choose a spot, perhaps stopping to sit and take in the surroundings with a flask in hand. Then make it your challenge to visit the exact same spot at the beginning of winter, then spring, summer and finally autumn.
If you are looking for some tips and advice on creative matters, check out your local landscape. Where else can you access such inspiration for free?