During my many years hiking the mountains of New Zealand and beyond, I have always come across people on some of the highest peaks and ranges with the most impractical and downright unsafe clothing I've ever laid eyes on!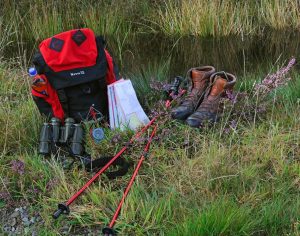 Though I may well know which clothing is the most practical, due to my experience, I still find it hard to understand why so many people will not ask for professional advice in this area before setting out on some of the more treacherous of activities.
What You Need When You Take to The Outdoors
Firstly, invest in a decent pair of boots or shoes which are designed for your intended activity. Many people select walking shoes because they tend to cover most activities such as walking in the mountains or forests, or hiking through a variety of off the beaten track landscapes. Make sure you purchase the best shoes that you can realistically stretch to, price-wise, and ensure they are comfortable in every aspect before you take off on your adventure.
I always advise those wearing walking boots for the first time to protect their ankles with an additional cushioning because, if you've never had to wear anything around your ankles before, the first time you try these boots you could end up with painful bruising – which may put you off wearing them again.
Secondly, purchase a good quality all-round jacket which will protect you from the elements. The best choice will be waterproof, protecting you from any wind chill, and work at keeping you warm when you need it the most. Above all, it should be comfortable and allow you to move freely, almost like a second skin.
Though you may start down at the bottom of a mountain in the glaring warm sun, by the time you come upon the peak, you could have walked straight into a rain cloud and come around the corner to be blasted by a sudden gust of cold air. If you are wearing an all-round weatherproof jacket, you won't need to keep talking it off and putting it on again to suit the ever-changing climate system of a mountain!
As with your jacket, your trouser choice should also follow the same principles. Waterproof trousers are worth adding to your kit as they are perfect for teaming up over a pair of jogging bottoms, track suits or leggings. They should be extremely light-weight and adequately sized to put on and remove with ease.