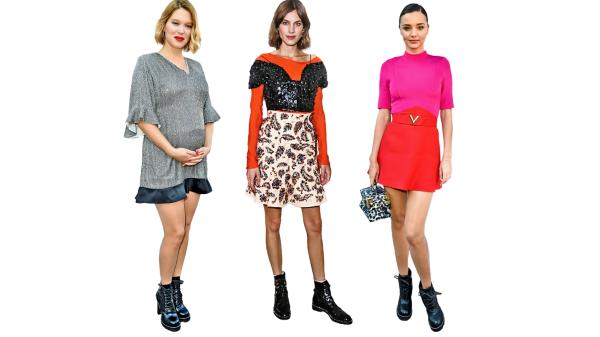 You probably thought hiking boots were only for mountain-climbing and bog-trotting, but the A-list has found a new place to wear them — on the red carpet.
They're not quite clompy stompers of the sort you'd usually find in Blacks, though. The fashion set's preferred hiking boot comes from the French luxury label Louis Vuitton and costs about £1,000.
At the brand's spring 2017 show in Paris last week, Léa Seydoux, Jennifer Garner and Miranda Kerr wore its £830 black leather Star Trail ankle boots on the front row. Taylor Swift has also been spotted in a pair.
Alicia Vikander teamed a £1,070 red and silver pair of Vuitton hiking boots with a leather and sequin mini-dress to the Met Gala in New York in May. They might seem a practical choice, but they still come with a chunky 9.5cm heel. That makes them more comfortable than the usual nail-like stilettos worn by stars at such events, but perhaps less than suitable for trekking in the Andes.
The German fashion editor and Instagram star Veronika Heilbrunner has even lent her name to a style by Aquazzura. The Heilbrunner comes in black leather and tan suede, with mink fur ankle trim, and costs £760.
On the high street, Topshop has a pair for £42 and Zara's take costs £89.99. Russell & Bromley has three fleecy styles, from £195. The retail analytics company Edited reports that there are 10 per cent more hiking boots on sale this autumn than last. Whether this is to do with fashion or the popularity of walking holidays post-Brexit remains to be seen.